Women's Weekend Mountain Bike Clinic
This event is now sold out.
If you would like to be placed on a waitlist please CLICK HERE. If space opens up we will notify you. Thank you for all the support!
https://www.cambatrails.org/ashwabay-womens-mountain-bike-clinic/
Women's Weekend Mountain Bike Clinic
May 31 – June 2, 2019, Friday-Sunday
Beginner and intermediate mountain bikers are invited to a weekend of fun on the beautiful CAMBA trails near Seeley, Wisconsin. Learn mountain biking skills in a friendly, safe and supportive environment with certified coaches, experience the trails in the CAMBA system, and join other women with a shared goal of becoming a better mountain biker.
Seeley, Wisconsin: OO and Hatchery Creek Trailheads
Cost: $195 (does not include lodging)
Limited to 50 participants. Geared to beginner and intermediate level riders.
Lodging: A block of rooms has been reserved at the Lenroot Lodge in Downtown Seeley. Contact Drew at Seeley63@Hotmail.com to make arrangements. To take advantage of this block of rooms, please make your reservation by May 20 and be sure to mention that you are part of the CAMBA Women's Weekend.
---
CLINIC SCHEDULE

Friday, May 31
4:00 pm – OO trailhead parking lot. Meet coaches and get group assignments. Coaches will evaluate skills. Bike check- saddle height, tire pressure. Possibly go for easy group ride.
6:00 – 7:00 pm – Check-in and gathering at the Sawmill Saloon, Seeley in the Freighthouse Theater. Don't forget to pick up your cool T-shirt.
7:00 pm – Dinner served, (included in your registration),  followed by a craft project.
Saturday, June 1
9:00 – 12:00 – Meet at Hatchery Creek Park Trailhead and get with your group! We'll rotate through stations on the skills course, where you'll learn about basic body position, saddle height, how to comfortably go over rocks and logs, negotiate curves, anticipate the trail ahead, ride a pump track and berm course, and more!
Noon – Lunch provided at the Hatchery Park Pavilion at Trailhead. Group photos.
1:00 – 4:00 pm – Continue to work on your skills, and put them to work in small group rides on the trails at the park. Take part in on-the-trail sessions according to ability.
5:30 – 6:30 pm- Salad Bar and Pizza served at the Seeley Sawmill Saloon, (included in your registration).
7:00 pm – Sawmill Saloon, Freighthouse Theater. Join in on educational and fun breakout sessions such as basic bike maintenance and repair, how to change a tire, suspension set-up, packing your pack, stretching and conditioning, brakes and maintenance, trail advocacy, and overcoming fear. Get your hands dirty! Beer, wine, and chocolate provided!
Sunday, June 2
8:30 a.m. – Stretch those muscles at the Hatchery Creek Trailhead. Fresh scones and hot coffee provided!
9:00 a.m. – Polish up your skills on the easy pump track and trails in the bike park, and then join your group on the Hatchery Creek Trail. Take part in on-the-trail sessions according to ability.
12:00 – Farewells and safe travel, or guided rides in the afternoon for those who can stay, according to interest and ability. If you can stay, don't forget to bring something for lunch!
---
CLINIC COACHES
Lori Hauswirth is a passionate advocate for trails and gets to spend her days promoting and supporting the Copper Harbor Trails Club in Michigan's Upper Peninsula as their Executive Director. Lori is a Level 2 IMBA ICP coach and serves as the lead coach for the CAMBA event, has been organizing the sold-out Copper Harbor Ladies Weekend for the last five years, and directed the Liv Ladies Clinic at the 2016 IMBA World Summit. Over the years she has been a mountain bike racer, an alpine ski racer and coach, avid trail volunteer, and has served as a race director for over 20 years. Lori enjoys rocky, technical rides, adventuring with her furry kids, and can be found exploring trails from Utah to Florida during the off-season.
---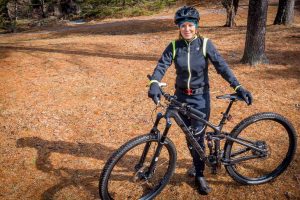 Dee Bartlam, from Duluth, MN, is a PMBI Level Coach, coaching for Colorado-based Vida Mountain Bike Series in Sedona, AZ, Minneapolis, MN, and Winter Park, CO.  Locally, she coaches the Mountain Divas mountain bike program at Spirit Mountain in Duluth.  Dee is a Trek Women's Advocate, encouraging women and sharing her passion for mountain biking by leading weekly ladies mountain bike rides and being a resource for all things mountain bike related. Riding for 10 years, she has benefitted from taking women's clinics, understanding how scary yet empowering learning new skills can be!  She enjoys fast, technical descending and enjoys taking part in the Duluth Enduro Series and the Lake Superior Gravity Series!  More women on bikes!
---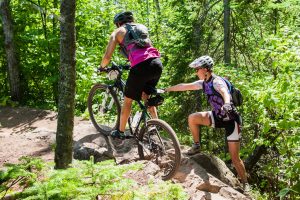 Lianna Miller is a key organizer for Copper Harbor Ladies Weekend and also the Copper Harbor Big Boy Clinic. Yes, she schools the boys too. She is also a former Collegiate MTB Champion for Michigan Tech, has been a certified coach for U.S. Junior Cycling and her specialty is teaching everything from the basics to dropping in the rugged stuff. Lianna is an engineer by trade and can carry a conversation on anything from thermodynamics to chamois cream. Thankfully Lianna and her husband Ben have chosen to hang around the Midwest for a while.
---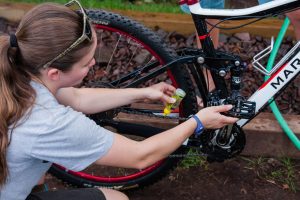 Mandy Kramer has an attraction to beer and affinity for roaming the woods on a bicycle with her dog, but her true passion lies in sharing her love of the sport of mountain biking with others. She has experience riding many different styles including cross country, enduro, dirt jumping, and single speed, is PMBI certified and has coached at the Copper Harbor Ladies Weekend since year one and the Liv AllRide Clinic in Duluth. Mandy is thrilled to have a big kid job is as a mechanical engineer in Houghton, Mich., where she can be in close proximity to a vibrant biking community and terrific singletrack!
---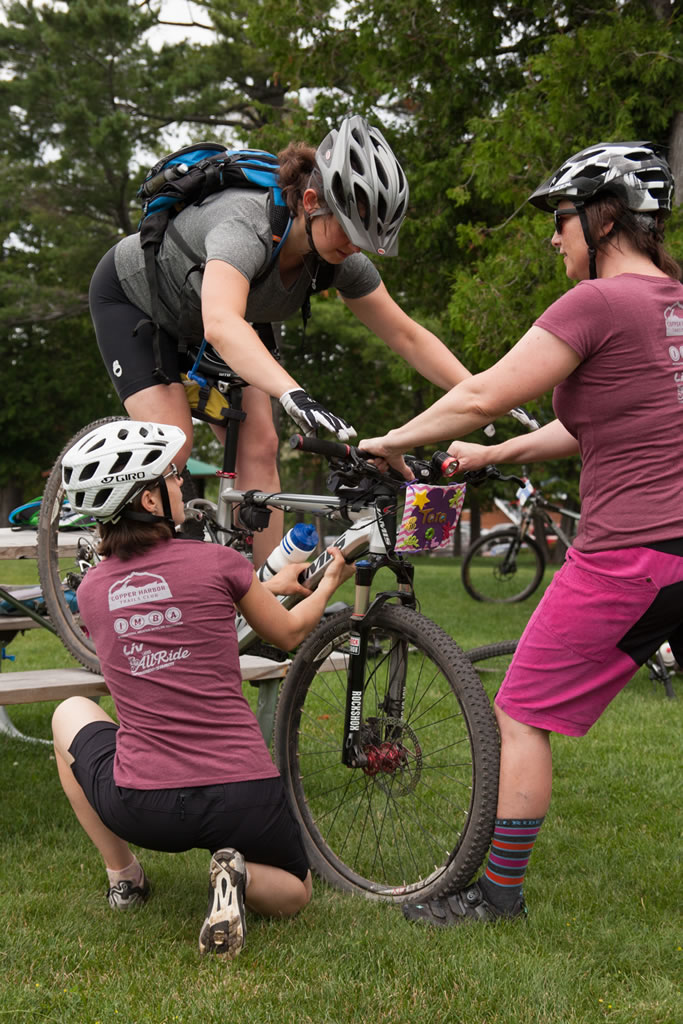 Candy Fletcher gets to spend her days promoting all the great outdoor opportunities in Marquette County of Michigan's Upper Peninsula as Recreation Director for Travel Marquette.  In her spare time, you can find her on her bike exploring the trails, guiding visitors, or teaching others how to have fun on a bike. As an ICP certified coach, Candy has instructed at the Copper Harbor Ladies Weekend and Liv AllRide Clinic in Duluth, and has also led clinics in Marquette and at the WInMan Trails in Northern Wisconsin.