After Party – Great Stuff: Swag, Raffles, Silent Auction
The Fat Bike After Party will have thousands of dollars of great merchandise items that you can take home if you are the lucky ticket holder or highest bidder.  There will be raffles, silent auctions and other ways to get in on the great deals.
Here are just a few items that will be available at the party.  A more complete list follows below.
Specialized Helga Women's Fat Bike
Donated by Northern Lakes/Do It Best & New Moon
Magura Brake set
Industry Nine Hubset (winner's choice)
Borah Teamwear Kit: Thermal Jacket, Jersey & Bib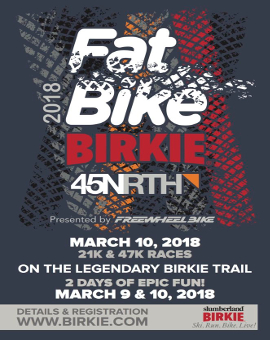 2019 Fat Bike Birkie – Two Entries
Chamonix Jacket & Bibs
Framed Wolftrax carbon frame
SOME GREAT STUFF THIS YEAR!
BIG Thanks to All of Our Sponsors!
 OTSO CYCLES
2018 Voytek Frankset $2299.00
(size to be chosen by winner)
FRAMED BIKES
Framed Wolftrax Carbon Fat Bike Frame $999.00
Chamonix Seeley 3L Jacket $300.00
Chamonix Esker Bike Bib $200.00
(Winner can choose color and size)
NORTHERN LAKES DO IT BEST HARDWARE/NEWMOON SKI & BIKE
Specialized Hellga Fat Bike Size Medium $1450.00
INDUSTRY NINE COMPONENTRY
Industry Nine Hub Set of Your Choice   $590.00
MAGURA
Magura MT8 Next 2018 Flipflop hydraulic disc brake set  $570.00
HED CYCLING PRODUCTS
B.A.D.- Big Aluminum Deal Rim Set $450.00
SPECIALIZED & NEW MOON SKI & BIKE
Specialized Hellga Fat Bike Size Large $1450.00
TERRENE
Terrene Wazia 26×4.0 Studded Tire Set $400.00
Terrene Wazia 26×4.6 Tire Set $240.00
RIVERBROOK BIKE & SKI
Bontrager Gnarwhal Fat Bike Tire Set 26"x3.8"  $500.00
BORAH TEAMWEAR
Borah Teamwear Fat Bike Kit $385.00
(Jacket, Jersey, Bib Tights)
LUPINE LIGHTING SYSTEMS
Piko 4X Headlamp System $335.00
BIKEJACKET.NET
Bike Jacket  $300.00
AMERICAN BIRKEBEINER
2 – 2019 Fat Bike Birkie Entry  $95.00
ROAM ADVENTURE BASECAMP
2 – One Night Stay in Cabins $89.00 each
BORAH EPIC
2018 Borah Epic Mtn Bike Race Entry $80.00
START LINE INN
KV+ Training Vest JURA $58.00
KV+ Thermal Bottle $30.00
DIRT COMPONENTS
1-DIRT OnSlow Gloves  $40.00
4 – DIRT T-Shirts  $20.00
5 – DIRT Hats  $25.00
1 – Slashers Insulated Big Bag w/Purist Bottle  $39.99
CAMBA
Time X-Presso 8 Pro Clipless Road Pedals  $150.00
2 – CAMBA FAT Framed winter bike poster  $50.00
Wolf Tooth Bar bag
CAMBA Sport T-Shirt
Chequamegon Fat Tire Festival hooded sweatshirt
1 Pair Travail Rampart tires 650b x 47
LENROOT LODGE SEELEY
1 Night Stay at the Lenroot Lodge  $150.00
(Subject to availability)
CHEQUAMEGON FAT TIRE FESTIVAL
Bontrager Flash Charger Tubeless Ready Pump $119.99
4 – The Whistle Punk Gift Certificates  $20.00 ea
THE RIVERS EATERY
Dinner for 6 Pizza, salad & drinks (wine or beer) $130.00
WOLF TOOTH COMPONENTS
Wolf Tooth Master Link Pliers (very hot item sold out on website)
Wolf Tooth Pogies
Wolf ToothFat Paw Grips
Wolf Tooth & Otso Socks, water bottles, bottle openers
Wolf Tooth & Otso Trucker hats
Wolf Tooth& Otso Pom Pom Winter hats
ANGRY MINNOW
Angry Minnow Growler A Month Club Membership $120.00
PIVOT CYCLES
Jersey, shorts, socks, hats, t-shirts & waterbottles
COOP'S PIZZA
1 – $100.00 Gift certificate
4 – $10.00 Gift certificates
HIDDEN BAY GRAPHICS
6 – Biking Skull Caps
ALSO Merchandise from these Sponsors:
45NRTH
Angry Catfish
Freewheel Bike
Salsa
Mtn Bike Radio
Wheel & Sprocket
Trek
Sheboygan Bicycle Company