Fat Bike Afterparty
March 7 @ 4:00 pm

-

8:00 pm

Free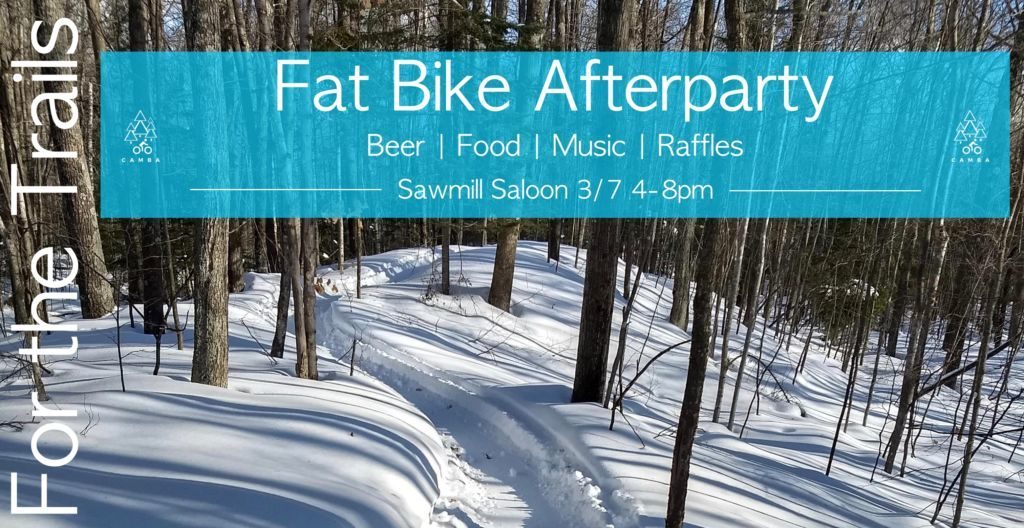 The fat bike social event of the season is coming on Saturday, March 7 at the Sawmill Saloon from 4pm to 8pm. The Fat Bike Afterparty is CAMBA's major winter biking fund raising event – all proceeds will go back into maintaining and supporting over 50 miles of groomed winter bike trails. Not only can you support CAMBA and have a great time, but you could take home a sweet new bike.
We are both proud and humbled by the recognition for legendary grooming on our Fat Bike Trails.  CAMBA's paid staff and volunteer staff put in a Herculean effort each week and after every snowstorm to groom up approximately 50 miles of superb singletrack.
Grooming 50miles of trails, requires multiple snow machines and drag implements, more than 600 hours of paid and volunteer time, more than $1000 in fuel costs, and more than $500 per year in signage costs.  In total, CAMBA has:
-Investment of over $30,000 for winter grooming
-Seasonal grooming costs: Payroll, Contracted Grooming Costs and maintenance amounting to over $15,000
We need your support.
We have organized The Fat Bike Afterparty as an awesome party where you could win one of a few awesome prizes.  Even if you do not, you can have a beer, hang with friends and have a great time.
4 chances to Win! Amazing odds at just 250 tickets total!
CAMBA will be selling just 250 raffle tickets at $40 each.  You do not need to be present to win.  Options to purchase:
– ONLINE until March 7 at 4pm
– In-person, CAMBA booth at Fat Bike Birkie expo
– In-person, Fat Bike Afterparty, Sawmill Saloon 4-8pm
You will not want to miss this event.  See you there!
Thank you to our awesome sponsors.